Compression Stockings and Garments
Compression stockings have been reinvented. "These are not the heavy fabrics of old, but a whole new generation of very stylish, lightweight legwear made with the latest technology and fashion colours" owner Helen Weninger explains. "It's amazing the difference they can make for both men and women". Stockings are on hand, so you can wear them home.
Whether you are looking for a stylish sock for managing chronic venous insufficiency or seeking an effective solution for preventing swelling due to lymphedema, you can always rely on the Pink Tree Specialty promise of superior fit, excellent wearing comfort and therapeutic effect.
Our compression garments are manufactured using premium double-covered yarns for optimum comfort, durability, and ease of donning. They are available in a variety of product lines, styles, compressions, and colors to match different needs and conditions. Compression is available in 15-20 mmHg, 20-30 mmHg, 30-40 mmHg, and 40-50 mmHg (depending on series and style).
No need to order and wait for them to come in. We ensure sufficient on-hand, in- store, products so that in most cases you can take them home at the time of your fitting.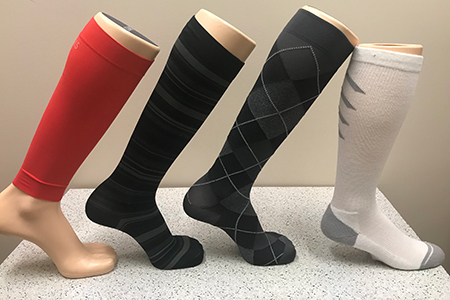 Compression Therapy Solutions
At Pink Tree we will find the right medical compression therapy solution for you. Our product line includes:
Graduated Compression stockings – therapeutic, graduated compression in a sheer stocking for relief from varicose veins and mild edema. They are available in knee high, thigh high, or pantyhose lengths. Both open toe and closed toe options are also available.
Medical Compression stockings – a prescription compression sock specific to your needs and correctly sized It provides superior comfort, correctly measured and fit by our Certified Fitters. ensuring the correct medically prescribed compression.
Travel Socks – a mild, graduated compression to help circulation. Ideal for relief from tired, tingly, cramped or swollen legs. They are great for people who frequently travel long distances.
Men's & Ladies light compression socks – effective support for mild edema or slight varicosity, the graduated support with a closed toe is ideal for sport, work, or travel

"Sport" compression socks – or athletic recovery socks – provide compression wear during indoor or outdoor activities. Featuring soft |Merino wool for outdoors.

Performance sleeves – a calf to thigh sleeve that provides graduated compression ideal for running and endurance sports. Designed with runners and athletes in mind.
Therapeutic Diabetic socks – scientifically designed for diabetics: super-soft and comfortable fitting
Compression stockings also available in "open toe" still can wear sandals in warm weather.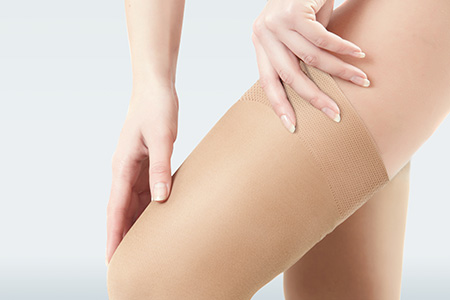 Compression arm sleeves are used for women who have lymphedema – which is the buildup of fluid in the arm after surgery. The compression on the arm not only improves circulation but also aids in the upward flow of the lymphatic and venous system. This blood flow is recirculating back toward your lungs and heart causing your system to function as it did prior to having lymphedema. It is also recommended to wear the sleeve during stressful activities and definitely air travel to prevent the buildup of fluid.